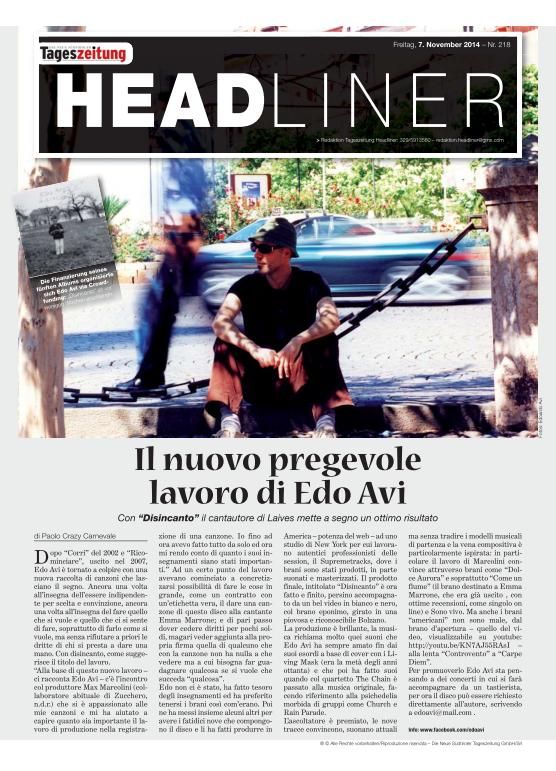 Jeden Freitag wird im Headliner in der Neuen SĂĽdtiroler Tageszeitung ĂĽber das Band- und Musikergeschehen berichtet.
In der Ausgabe vom 07.11.2014 findet ihr folgende Themen:

* Con "Disincanto" il cantautore di Laives mette a segno un ottimo risultato: Il nuovo pregevole lavoro di Edo Avi
* Zwei Songs, so ganz nebenbei: The Shea mit neuer Single
* "Listen To Your Heart" (1): Die tierliebsten Bands
* KlangKuenstler: In The Deep House
* News: Dead Like Juliet: Neue Formation; Insanity Alert: Neues Album, neues Video; Cinco Guitarreros Deluxe: "Buena vaca"; Centro per la Cultura, Meran: Musical Dialogues;
* Die Erben des Thrash: 3-Track-EP von Parhelion
* Halloween 2014 al Max: Dolcetto o scherzetto?
* Unantastbar in Innsbruck: Geburtstagsfeier mit 900 Gästen
Online nachlesen im Headliner-Archiv: http://issuu.com/headliner.archiv/docs/hdlr322
* Redaktion Headliner: redaktion.headliner@gmx.com
* Bisher im Headliner * Headliner-Blog * headliner.archiv.