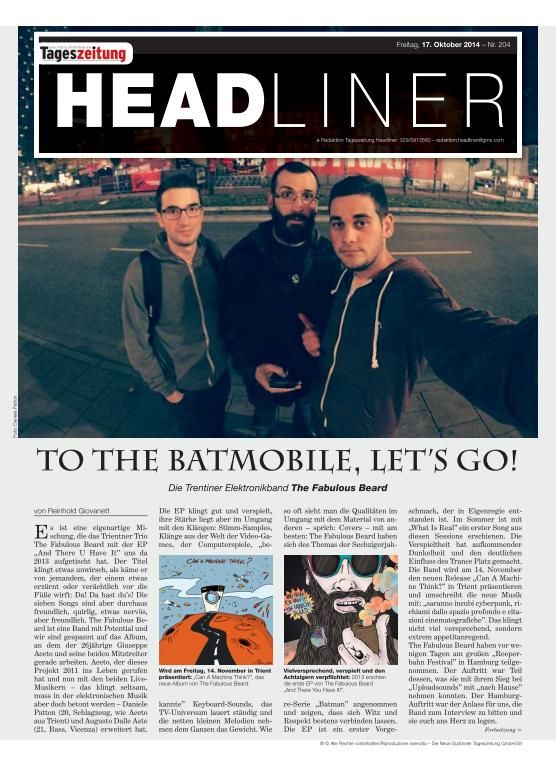 Jeden Freitag wird im Headliner in der Neuen SĂĽdtiroler Tageszeitung ĂĽber das Band- und Musikergeschehen berichtet.
In der Ausgabe vom 17.10.2014 findet ihr folgende Themen:

* To The Batmobile, Let's Go! Die Trentiner Elektronikband The Fabulous Beard
* Spiegel der Vielfältigkeit der Welt: The London Elephants im Ex-Astra Kino in Brixen
* Aufdrehen / Ausdrehen
* Die Bandmaschine in Berlin: Der CD-Erstling von Marc Giugni
* Wer bin ich? – Folge 49
* News: The Koalas: Live im Ost-West-Club Meran; George McAnthony: Remix; Four – Die Songs sind online; Steinegg Live 2014: Colosseum etc.;
* Lene Morgenstern: Tour(ch)-Start
* Unbeschreiblich: Carla Bozulich live im "Sudwerk" Bozen
Online nachlesen im Headliner-Archiv: auf http://issuu.com/headliner.archiv/docs/hdlr319
* Redaktion Headliner: redaktion.headliner@gmx.com
* Bisher im Headliner * Headliner-Blog * headliner.archiv.