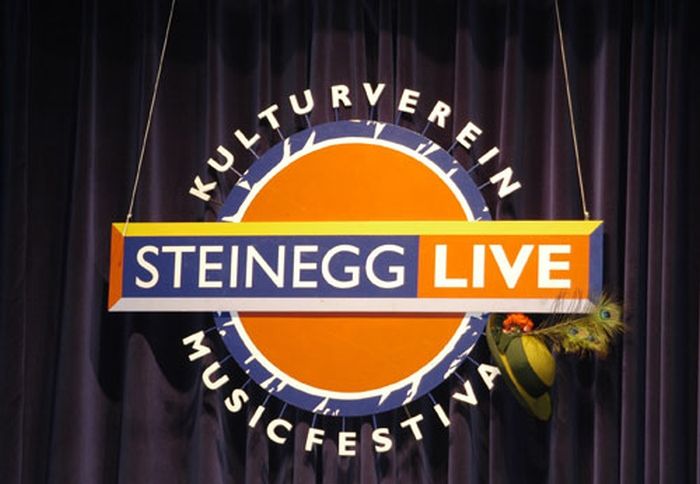 Die 18. Ausgabe des Steinegg Live Festivals, das heuer vom 17. bis 25. Oktober im Kulturhaus Steinegg stattfindet, praesentiert diesmal Kuenstler wie Jefferson Starship, Roomful of Blues, Colosseum und viele andere.
Hier die komplette Programm-Ăśbersicht:
Freitag, 17.10.14 

Hoangort mit: Die Herbischtsinger, Steinegger Tanzlmusig, Schildbergmusig, Abies Alba, Familienmusik Waldauf
Samstag, 18.10.14
Kinder- und Jugendtheater "Ich wĂĽnsche mir …" (17.00 Uhr)
Konzert: Rising Stars & Local Heroes – Junge Steinegger Musiker
Sonntag, 19.10.14
FrĂĽhschoppen – Sunntig-Ball mit: 
"Algunder Festplatz Böhmische" – 11.00 Uhr
- "Die Lungauer" (A) – 14.00 Uhr /"Bobby Live" – 14.00 Uhr – Festplatz (Kinderprogramm Nachmittag)
Montag, 20.10.14
Kino fĂĽr Kinder – 16.00 Uhr
Musik-Kabarett: Christof Spörk – Programm: "Ebenholz"
Dienstag, 21.10.14
Konzert "ACOUSTIC FEVER" (International)
 Die Hits von Toto, Scorpions, John Parr – unplugged interpretiert von BOBBY KIMBALL (Ex-Toto), HERMAN RAREBELL (Ex-Scorpions), JOHN PARR, JosĂ© Antonio Rodriguez, Michael Voss, Corey Whitgead, Claudia Raab, Holggy Begg usw.
Mittwoch, 22.10.14 

Jazz – Funk – Konzert "New Project Funk Orchestra & Marco Pierobon" (I) – Der international erfolgreiche Bozner Trompeter mit Big Band präsentiert das Programm "Nano Nano"
Donnerstag, 23.10.14 

Jazzrock – Konzert "COLOSSEUM" (UK) – The Retour of a Legend ! … mit den Originalen: Jon Hiseman, Barbara Thompson, Clem Clempson, Mark Clarke, Dave Greenslade & Chris Farlowe
Freitag, 24.10.14
Blues-Night mit:
"ROOMFUL OF BLUES" (USA)
+ "Morblus Band" (I)
Vorgruppe: "Fish & Chips Blues Band" (BZ)
Aftershow: "Stolen Brothers"+ Jam-Session
Samstag, 25.10.14

Party-Night mit:
"JEFFERSON STARSHIP" (USA)
- Die Woodstock-Legende mit den Hits der 60er – und 70er-Jahre aus ihrer Zeit als Jefferson Airplane und Quicksilver (Somebody To Love, White Rabbit, Jane, Miracles, Count On me, Volunteers uvm.)
Vorband: "Familie Santoni" (BZ) / Aftershow-Party mit: "Double Trouble"
Tickets gibt es bei den SĂĽdtiroler Raiffeisenkassen, bei Athesia-Ticket oder online bei www.ticketone.it.
Weitere Infos unter www.steinegglive.com.